AIA Alta Wellness Haven Powered by Humansa is Officially Open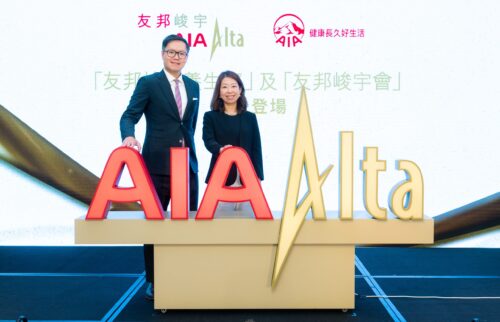 (28 September, 2023 – Hong Kong) Humansa, a premium healthcare brand of New World Group, and AIA, a leader in the insurance industry, today announced the official opening of AIA Alta Wellness Haven powered by Humansa1 will be on 29th Sept, 2023, marking the first2 one-stop integrated wellness space that blends science seamlessly with Eastern and Western philosophies within the Hong Kong insurance industry. AIA and Humansa, as industry leaders in insurance and integrated healthcare, are joining forces in a collaborative effort to address the suboptimal health issues of AIA's High Net Worth customers. A multidisciplinary team with a blend of East-meets-west expertise, will provide a diverse range of wellness services to nurture the members' mental, physical, and nutritional health.
Located on the 20th floor of New World Tower II in Central, AIA Alta Wellness Haven is designed, built and operated by Humansa as service provider. "Humansa is honored to be the exclusive partner of AIA to provide tailor-made one-stop integrated health management services to its high-net-worth clients," said Don So, Chief Executive Officer of Humansa. "This collaboration not only meets the innovative needs of AIA Hong Kong, but also aligns perfectly with our vision of continuously improving our expertise, advanced technologies, and multi-disciplinary team of experts to provide mental, physical and nutritional health for our clients. AIA Alta Wellness Haven powered by Humansa's wellness concept always puts the client's well-being first, offering the highest quality of personalized health experience. This partnership not only instills confidence in our customers' health journey, but also marks a significant milestone in the steady development of Humansa's healthcare business."
"We recognise the strong demand for comprehensive wealth and health management services among our HNW customers. This customer segment not only has high standards for wealth planning, but also places high emphasis on health, seeking a holistic balance of health and wealth in life." said Ms Alice Liang, Chief Proposition Officer of AIA Hong Kong & Macau. "AIA becomes the first to anchor the 'Health Comes First' concept in our HNW Proposition, and unveils our core exclusive initiative 'AIA Alta Wellness Haven', helping them to integrate health into their lives with concrete actions while refining our multifaceted HNW Proposition. By constructing a premium service ecosystem as their lifelong partner that integrates physical and mental well-being, wealth management and medical protection to help our customers live Healthier, Longer, Better Lives."
Chinese and Western multi-specialty team tackles suboptimal health with tailor-made mental, physical and nutritional programs
Aiming at high-net-worth clients, who often suffer from suboptimal health status, a state between health and illness, due to stress and fatigue, AIA Alta Wellness Haven has set up a multidisciplinary team consisting of scientific-based Chinese and Western medical practitioners, nutritionists, physiotherapists, etc., which after in-depth understanding of the needs and conditions of the clients, will use the concepts of Chinese wellness in tandem with Western medical science to develop customized plans for mental, physical and nutritional wellbeing. A team of experts from various fields form a WellnessExpert team who will follow up the entire wellness treatment process.
AIA Alta Wellness Haven provides a wide range of professional equipment and services to suit the needs of the three major areas of mental, physical and nutritional care. For example, in the area of mental health care, Quantum Audio Therapy provides scientifically proven specific sound wave frequencies to help calm the mind and reduce anxiety, allowing clients to fall asleep easily and achieve a balanced body and mind. For physical health care, the center is equipped with an internationally patented radiofrequency (RF) cupping system, which utilizes radiofrequency to warm the muscles, increase blood circulation, and eliminate toxins; and in the area of nutritional care, specialists in various fields will analyze the body composition of clients and formulate personalized healthy dietary programs.
Humansa will continue to provide unparalleled healthcare services to corporate and individual customers in the healthcare industry, with nearly 40 healthcare centers in operation in the Greater Bay Area to meet the demand for quality healthcare.
AIA Alta Wellness Haven Service Overview
Mental
Physical
Nutritional
–        Sleep management

–        Stress management

–        Pain management

–        Weight management

–        Dietary management

–        Cardiovascular health management

–        Allergy management

Services include:
Guided Meditation, Wellness Coaching, Quantum Harmonic Audio Treatment
Cryotherapy, Physiotherapy, Physical training, Acupressure,  Infrared Moxibustion, Tui na
Body Composition Analysis, Nutrition Consultation, Food Allergy and Intolerance Test, Healthy Meal Plan
Humansa and AIA are pleased to announce the opening of AIA Alta Wellness Haven powered by Humansa as service provider will be on 29th Sept., 2023, the insurance industry's first one-stop wellness center integrating Chinese and Western philosophical concepts.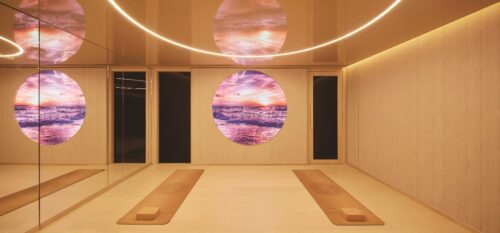 The multi-functional room of AIA Alta Wellness Haven provides customers with a comfortable space for activities such as meditation, yoga, Pilates, and more.
The treatment room of AIA Alta Wellness Haven offers wellness services, such as radiofrequency cupping and cryotherapy.
1 "powered by Humansa" refers to that AIA Alta Wellness Haven is solely operated by Sustainable Wellness Limited.
2 As of 1 August 2023, compared with services provided by Hong Kong major insurance companies.